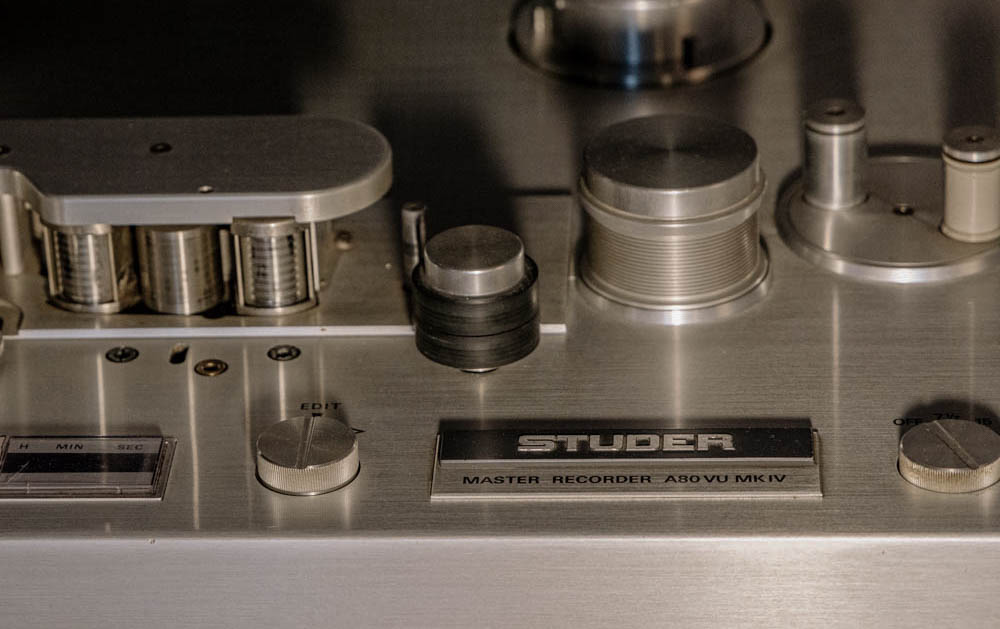 Some of the rare items from our gear list are a vintage
 EMT 140 Reverb Plate Quad
 version, 
Studer A80 1 Inch Stereo Master Recorder
 , 
Gibson Firebird Guitar
 with Maestro Tremolo , 
'57 Custom Shop Les Paul Junior
 with vintage pickup, a one off special custom commission semi-hollow body electric 
guitar by Jerry Auerswald
, vintage
 1970 Ludwig Black Panther Hollywood Outfit 
drum kit, 
Hammond organ
 with a 
Leslie speaker
, 
Mellotron
, 
1924 Steinway
 Upright Concert Piano, 
Telefunken Cm61 
tube Mic with PSU, vintage 
Neumann Km256
 from the 50's, original vintage 
Telefunken U47
, 
RCA Alf c61 Nuvistor
 tube Mic, vintage 
Neve 1084
, 
Teletronix LA-2A Optical Compressor/Limiter
, 
Universal Audio 1176 Rev. A Compressor Limiting Amplifier
, 
Rupert Neve Designs 5060 Centerpiece
24x2 Desktop Mixer. See Old Carpet Factory Recording Studio Complete Gear List below.
API Audio 525 Discrete Compressor
API Audio 525 Discrete Compressor
Avalon VT-737sp Class A Mono Tube Channel Strip
Chandler Limited Little Devil 500 Series FET Compressor
Chandler Limited Little Devil 500 Series FET Compressor
Chandler Limited TG1 Stereo Compressor Limiter
Chandler Limited TG2-500 Preamp
Chandler Limited TG2-500 Preamp
Chandler Limited TG2-500 Preamp
Chandler Limited TG2-500 Preamp
Chandler Limited TG2-500 Preamp
Dolby Model 363 2-Channel SR/A-Type Processor
Fredenstein Bento 10S
Fredenstein Bento 10S
Great River 32 EQ 500 Series
Great River MP 500NV Preamp
Heritage Audio 73EQ JR
Heritage Audio 73JR II 500 Series Microphone Preamp
Heritage Audio 73JR II 500 Series Microphone Preamp
Heritage Audio 73JR II 500 Series Microphone Preamp
Heritage Audio 73JR II 500 Series Microphone Preamp
Joe Meek TwinQcs
Laney Sound Supergroup series MK1 Spring Reverb
Millennia HV-35 500 Series Microphone Preamp
Millennia HV-35 500 Series Microphone Preamp
Neve 1084 Mic Pre / EQ
RTW 10800 X Plus eight-channel SurroundMonitor
Rupert Neve Designs 543 500 Series Mono Compressor/Limiter
Rupert Neve Designs 543 500 Series Mono Compressor/Limiter
Rupert Neve Designs 5060 Centerpiece 24x2 Desktop Mixer
Rupert Neve Designs Portico 542 500 Series Tape Emulator
Rupert Neve Designs Portico 542 500 Series Tape Emulator
Rupert Neve R10 Ten Space 500 Series
Shadow Hills 500 Series Preamp
Solid State Logic 611DYN 500 Series Dynamics Module
Solid State Logic 611DYN 500 Series Dynamics Module
Sontec MEP-250EX 2-Channel Parametric EQ
Tech 21 Sansamp PSA1
Teletronix LA-2A Optical Compressor/Limiter
Thermionic Culture Phoenix Stereo Compressor
Trident A-Range 500 series
Universal Audio 1176 Rev. A Compressor Limiting Amplifier
Ableton Live 11 suite
Antares
Apple Logic Pro X
Audiomodern Plugins
Avid Pro tools Studio latest version
BABY Audio Comeback Kid
Celemony Melodyne 5
DJ Swivel Spread
Eventide Inc
Exponential Audio
Fabfilter Audio Plugins
Izotope Plugins
LANDR FX Bass
Mac M1 Studio
Native instruments komplete 14 Collector's Edition
Oeksound
Output audio plugins
Plugin Alliance Plugins
Reason Studios Reason 12
Serato Pitch 'n Time Pro
SIR Audio Tools Standard Clipper
Softube Plugins
Sonarworks SoundID Reference
Sonnox Plugins
Soundtheory Gullfoss
Soundtoys V5 Bundle
Spectrasonics Software Instruments
SSL Plugins
Synchro Arts VocAlign 5
TC Electronic
Universal Audio Spark (UAD Native)
Universal Audio UAD2
"Valhalla DSP
Plugins"
Waves Plugins
Acoustic Image & Coda Combo Double Bass Amplifier
Fender Vintage Super Reverb Amplifier
JBL Amplifier
Mark Bass Jeff Berlin Bass Amplifier
Vox Custom Tube Amplifier
FENDER American Jazz Bass
Fender Precission 1952 custom Bass
Hofner Very Thin Reissue
Hofner Viola Bass 1965
Rickenbacker 4003S Bass Guitar
Danelectro 6-string Electric Sitar with Drone Strings
Fender custom 1950s Telecaster
Fender custom 1960s Stratocaster
Gibson LG1 1954 vintage Acoustic Guitar
Gretsch G5422TG Electromatic
Hagstrom 12 String Electric Guitar 1967
Jerry Auerswald Custom Guitar
Martin 000 RSGT Acoustic Electric
Martin D28 1937 specs Custom Shop
1924 Steinway Upright Concert Piano Model T
Farfisa Compact Duo Mk II Combo Organ 1968
Hammond XK-5 Heritage Series Single Manual Organ+Leslie Cabinet
Korg SV-1 73 Stage Vintage Piano
Korg Synthesizer microKORG S Synthesizer Vocoder
M-AUDIO Keystation 88 MKII Midi Keyboard
Mellotron M4000D Mini Keyboard
Moog Sub 37 Tribute Edition Paraphonic Analog Synthesizer
Native Instruments Komplete Kontrol S49
Yamaha YDP-S52 Arius Personal Digital Piano
AKG D 112 MKII DYNAMIC Microphone
Beyerdynamic M 130 Ribbon Microphone
Beyerdynamic M 160 Double Ribbon Microphone
Earthworks SR-25 MP 1 of Matched Pair
Earthworks SR-25 MP 2 of Matched Pair
Electro-Voice RE320
Neumann KM 184 MT 1 of Stereo Set Condenser Microphone
Neumann KM 184 MT 2 of Stereo Set Condenser Microphone
Neumann U 87 Ai 1 of Stereo Pair
Neumann U 87 Ai 2 of Stereo Pair
Oktava mk 012 2 of stereo pair
Oktava MK-012 1 of stereo pair
Royer Labs R-121 Large-Element Ribbon Microphone
Sennheiser MD 421-II Cardioid Dynamic Microphone
Sennheiser MD 421-II Cardioid Dynamic Microphone
Sennheiser MD 421-II Cardioid Dynamic Microphone
Shure BETA 52A Kick Drum Microphone
Shure Beta 91A Condenser Boundary Microphone
Shure Beta 181/C
Shure SM57-LC Cardioid Dynamic Instrument Microphone
Shure SM58-LC Cardioid Dynamic Microphone
the t.bone GM 5212

Antichton Catalinbread
Boss Tremolo TR-2
Catalinbread/Moseley Fuzzrite
Crazy Tube Circuits Constellation - CV7003 Fuzz
Diamond Memory Lane Dlx Analog Delay Pedal
Electro Harmonix Bass Big Muff
Electro Harmonix Nano Big Muff Pi
Fulltone OCD
Jam Pedals Custom Fuzz
Jam Pedals Delay Llama
Jam Pedals Ripple
Jam Pedals Tube Dreamer
Jam Pedals Wahoho Wah Pedal
Korg DT 10
MARKBASS Super Synth Bass Pedal
Moog Moogerfooger
MXR Analog Chorus
T.C Electronic Chorus + Flanger
T.C. Electronic June-60 Chorus
DG De Gregorio Yaqui Cajon Makassar
Ludwig Black Panther Hollywood Drum Set 1970
Meinl Bongoset
Meinl Doumbek
Millenium Bongos
Millenium Conga Set
Ocean Drum
Toca Djembe
B&W Nautilus 805 loudspeaker
B&W Nautilus 805 loudspeaker
Dutch and Dutch 8C Studio Active 2-Way Monitor
Trident HG3 3 Way Studio Monitors 1 of Pair
Trident HG3 3 Way Studio Monitors 2 of Pair
Baglama
Electric Saz
Fender Mandolin
Goodtime Banjo
Tzouras Big Bootey
Tzouras Skinny
Weber Octave Bass Mandolin
Yamaha Guitalele
5 Beyer Dynamic DT 770 Headphones
Ableton Push Controller Instrument
BSS AR-133 Active DI Box
Dynacord Eminent Tube Mixing Amp
KORG KAOSSILATOR PRO+ Dynamic Phrase Synthesizer
Neutrik NPPA-TT-SD25 Patchbay
Neutrik NPPA-TT-SD25 Patchbay
Radial Engineering X-AMP
RADIAL ProD2 Passive Direct Box Stereo
Roland Chorus Echo RE 501
Zoom H4N PRO Digital Multitrack Recorder
Critter & Guitar Pocket Piano
Critter & Guitari Bolsa Bass
Critter & Guitari Organelle M
Hohner Harmonicas
Hohner Melodica
Moog Etherwave Theremin
Ocarina C5
Rainmaker
Studio 49 GSd Soprano Glockenspiel
Tambourine